Get ready to supercharge your data operations with our latest + greatest updates - packed with powerful new features, enhancements, and expert insights to help you unlock the full potential of your data operations! 
---
More Enhancements in SOLE 
We are continuously enhancing our Snowflake Object Lifecycle Engine with more capabilities to help you fully manage your Snowflake ecosystem. You can now: 
Plan modifications to any Snowflake database before applying them by using the plan and apply for lifecycle jobs. 

Learn more

 

 
Review in a human-readable version, generated as part of the plan lifecycle job, all the modifications planned to be applied to a Snowflake database. 

Learn more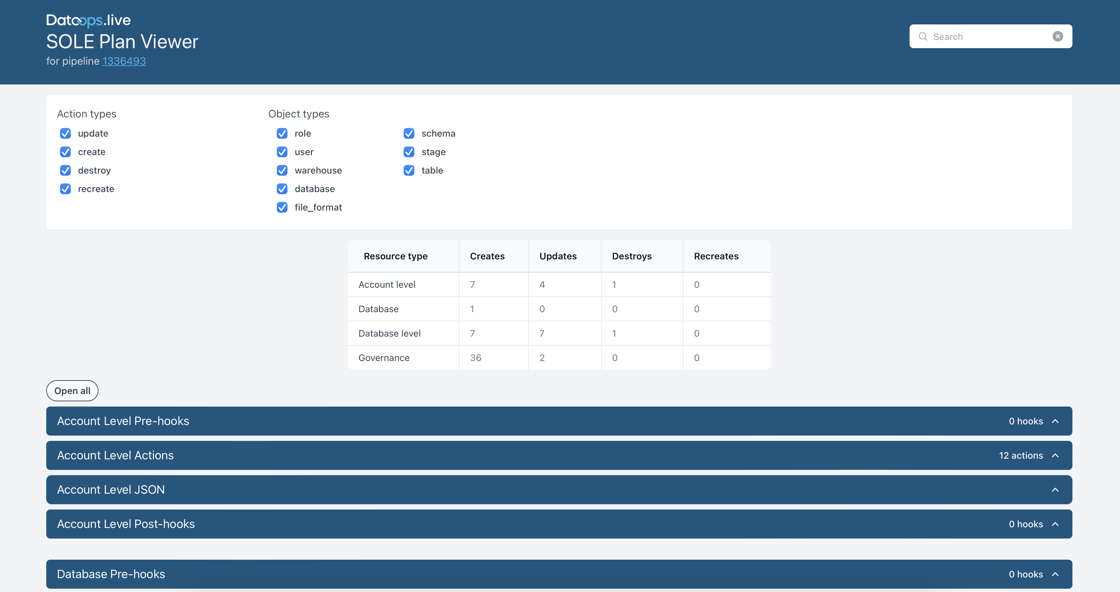 Use the SNOWPARK-OPTIMIZED warehouse that provides 16x memory per node compared to a standard Snowflake virtual warehouse. 

Learn more

 
Prevent SOLE from implicitly granting USAGE privileges on the parent and grandparent objects by simply setting a value to a variable. 

Learn more

 
 
MATE with Different dbt Versions 
Our Modeling and Transformation Engine (MATE) now supports different dbt versions and provides you with the variable DATAOPS_FEATURE_MATE_DBT_VERSION to decide which version to use. Learn more 
MATE now also supports colored lineage graphs by annotating your logical layers in your dbt project. Learn more 
Did You Know… 
… that our template rendering engine now supports using Python's datetime and time modules in dbt models and Jinja templates? Learn more 
Community  
"In the data world, there are lots of advances in cloud technology that should not go unnoticed or ignored… I think the future is cloud – there's no question about it."  
Live streaming on LinkedIn and available on-demand, the thirteenth episode of the #TrueDataOps Podcast brought together Kent Graziano, aka 'The Data Warrior', with his longtime friend Dan Linstedt, inventor of the data vault system of business intelligence. "We're on a collision course to re-engage business analytics alongside operational systems, at least in the cloud space. It's because data is growing at an unprecedented rate, and it's about to increase again… Data is simply getting too large to move, and this is why I definitely think the cloud is the future..." Hear the rest of what Dan had to say in the link above! 
"The problem of data trust is ubiquitous. The number one thing people told us was 'the data is wrong and that leads us to a place where we can't trust it, and we can't use it…'" 
Episode 14 of the #TrueDataOps podcast welcomed Barr Moses, Data Observability pioneer, CEO, and co-founder of Monte Carlo, who joined host Kent 'The Data Warrior' Graziano to discuss all things data and DataOps. "We can't afford to ignore the implications of bad data - and this is where data observability comes in. Today, you not only have a lot more data, you also have a lot more people using the data…"  
Up Next!
Wednesday, May 3rd | 4pm GMT 11am EDT
 
Join us for our next episode with Neil Strange, CEO and founder of DataVault. Neil is a professional management consultant specializing in all aspects of business intelligence. A director of Business Thinking (trading as Datavault), he is a thought leader in Data Vault 2.0 Data Warehousing, BI, analytics, AI, deep learning, and information governance. Neil is a Guest Presenter, Visitor at the Royal Holloway (University of London) School of Management | RSVP on LinkedIn
That's all for now. Until next time,  
The DataOps.live Product Team